August 14, 2016
My Not So Secret Review of the Secret Life of Pets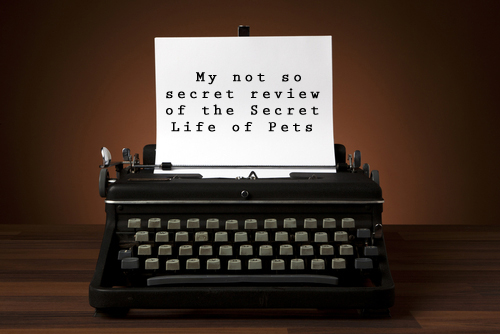 First off, Dan and I rarely go to the movies. On Oscar night, we could watch the entire show and say to ourselves we didn't see a single movie nominated for an award. So, when we decided to see the widely publicized Secret Life of Pets, I was excited to say the least. And just so you know, when I go to the movies, I'm the kind of person that doesn't read reviews, preferring to appreciate the movie on its own merits without prior judgement. Quite frankly, I'm just happy to be out, so I tend to enjoy a movie for the sake of a nice evening with Dan, rather than critiquing and pulling it apart.
That said, much to my regret, because I really didn't want to feel this way – I mean, come on – a movie starring cute pets – I was completely disappointed. I tried, I really did. I wanted to bond with all the cats, dog, bunnies, birds, fish, and more, but they gave me very little to work with. I wanted nuance. You know, all those quirky habits that our pets have, in my case, cats, that every pet guardian can relate to. Honestly, just the process of being woken up by Peanut at 5:00 in the morning with her paws tapping at my face for a straight half hour, me stumbling to the kitchen after I wake up and stepping on a landmine of plush toys Zee has left on the floor, and trying to feed seven hungry cats who keep jumping up onto the counter while I keep putting them back down, is enough nuance for a full-screen movie.
Simon, of the Simon's Cat videos, is nuance at its brilliant best. I could watch those simply drawn videos a hundred times over, and they always make laugh. He "gets" cat. Instead, we got a wild goose chase of assorted pets, down a sewer, led by an angry bunny, to avenge all the humans of the world that have done wrong by them. I wouldn't mind the bunny being angry, but they made him so over the top angry that it was ludicrous. We get it bunny, you're a tough guy. But honesty, it's probably just me. I know a lot of people really enjoyed the movie. Some of it might perhaps be me showing my age. I was brought up in a time when cartoon movies were cartoon movies. Some of my classic Disney favorites—The Aristocats and 101 Dalmatians—those movies will forever stay with me. They were amateurish by today's standards, but to me, they captured every scene perfectly, bringing these classic cartoon characters to life.
While the imagery in Secret Life of Pets was undeniably amazing, it was just too much for me. I don't need all that fancy technology. All I want is a plot that captures my attention. Sorry to say, Secret Life of Pets did none of that for me. But it did allow me a moment to daydream. I applied a fun photo technique to Jazmine and turned her into a beautiful cartoon. I thought to myself, what would she do if she had a secret life? My guess, although at first glance she'd want to pouch on, kill, and eat all the creatures in our yard—birds, bugs, lizards, bunnies, and squirrels—they would quickly befriend her and then join her in her quest to find the perfect shrimp topped pizza—her favorite thing in the world!
If your cats had a secret life, what would they do? And for those of you that saw the movie, what did you think? And lastly, what are your favorite animated movies?