April 12, 2020
Tips for Keeping Cats Safe During Easter, Social Distancing, and Beyond
Easter Sunday, as it's known in Christianity, marks the anniversary of Jesus' resurrection and ascension to heaven and is typically a day steeped deep in traditions to celebrate the miracle – most of them involving social gatherings, whether groups of people at church or family celebrations at home. But today, amid a global pandemic, tradition is replaced with social distancing, cleaning and disinfecting taking precedence, and the holiday will have to be reinvented. We can still celebrate and look for the deeper meanings of love and hope in a very scary and uncertain world, but we must keep safety and smart cleaning in mind, especially in those households with cats who are cooped up in close quarters with us.
If you do decide to celebrate with Easter baskets, be aware the shiny ribbons, cellophane grasses, and chocolate candies can be a tempting magnet to a cat. Ribbons and grasses, if ingested, could quickly become entangled in kitty's intestine, causing them to twist and close off requiring dangerous surgery. And chocolate is highly toxic to kitty, as well as those beautiful Easter lilies we are all familiar with. Small toys are a hazard, too. If your cat decides to eat the toy, he could possibly choke on it. If you can't be around to supervise your cat when the basket is out, it's best to put it away safely somewhere he can't get it to resist temptation.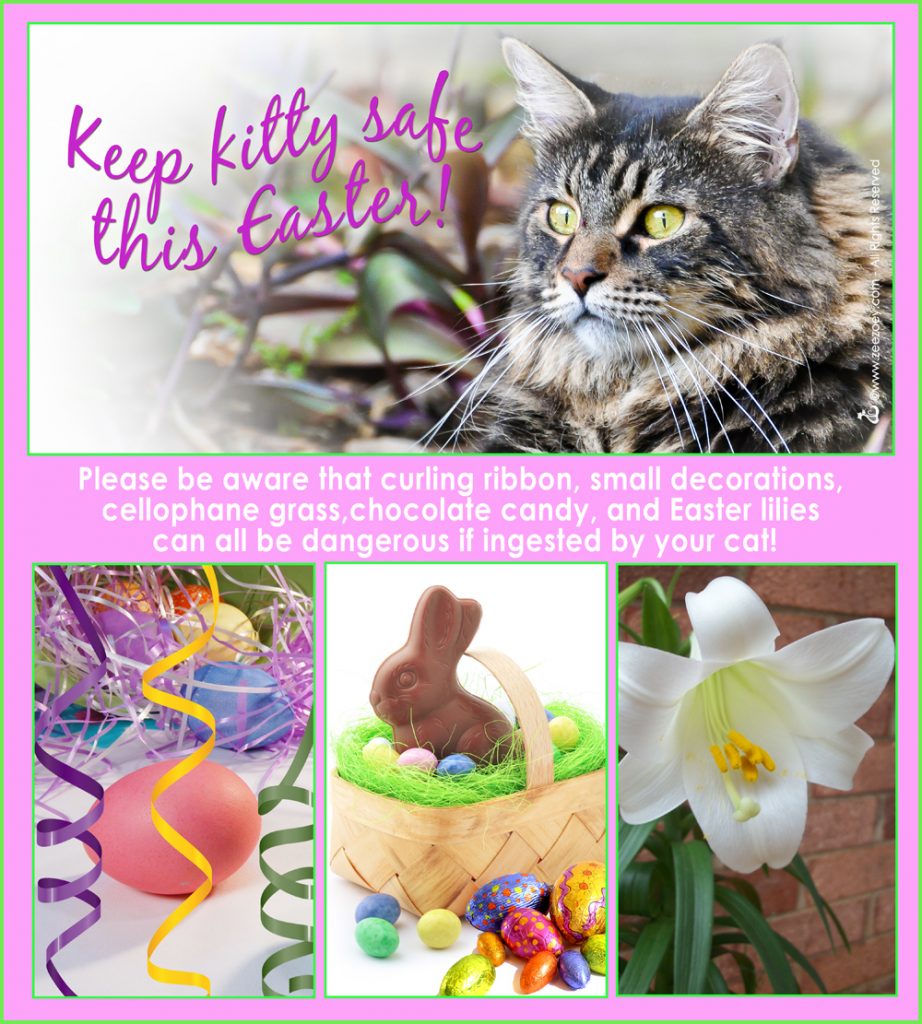 As far as keeping our homes disinfected, Dr. Barbara Hodges, director of advocacy and outreach for the Humane Society Veterinary Medical Association says we need to be "extra vigilant," with the cleaning products we use to kill the virus that causes COVID-19 because they can just as easily sicken or even kill our pets, especially cats who are particularly vulnerable due to their small size. Cleaners with powerful odors that promise results and make disinfectants effective are a red flag to danger: alcohol, bleach, hydrogen peroxide, and chemical compounds that contain the word "phenol."
We can easily get distracted during these stressful times and when we're cleaning, that's all we should be doing. Don't get up to pick up the phone or something else – if you're washing the floor, your cat could play with the water, knock it over, walk on it – all quickly amounting to toxic chemicals touching your cat's paw and licking it. If you can, shut your cat out of the room while you are cleaning, that would be ideal.

And it's not just Easter baskets or cleaning products to be mindful of. Many of the over the counter medications such as acetaminophen—one of the pain and fever reducers people take for COVID-19 symptoms can endanger kitty. The Humane Society of the United States reported in March, as the COVID-19 pandemic spread across the U.S., accidental ingestions by pets of drugs like Tylenol were driving a rise in calls to the APSCA national pet poison hotline.
Familiarize yourself with your cat's veterinary hours and COVID plan. While veterinary offices have been determined essential businesses, each specific office may have different rules and guidelines and if you have an emergency, you'll want to know what to do. Keep the vet's phone number locked in your phone and posted on your refrigerator to quickly access.
When using cleaning products, read the labels carefully to check the ingredients and follow use instructions precisely. Be mindful of the strength of the product, and by how much you should dilute it. Using more than recommended is not better. The higher the accidental dose a pet gets, the more toxic.
When you are done with liquid cleaners, rinse out buckets and mops. When you are done with disinfecting wipes, throw them out right away. Make sure your household garbage bags and cans always have lids secured. Shut and secure the doors of cabinets or closets or rooms where you store cleaning products, equipment, and medications.
Keep pets out of the room when you are cleaning. Do not leave disinfectants or cold and flu medications unattended. After you have used them, store them in a place that pets cannot reach. If you wet floors or counters with disinfectants and cleaners, keep pets away until they dry. Ideally, rinse floors with water.
If you suspect your pet has been poisoned (symptoms may include vomiting, diarrhea, lethargy, and seizures), seek veterinary medical help right away, as the prognosis is always better when a toxicity is reported immediately. If they are not immediately available for advice, call the Pet Poison Helpline at 855-764-7661. To aid in identifying potentially dangerous items, the Pet Poison Helpline website also has an A to Z list of what items are poisonous, the level of toxicity if ingested, and what the common signs to watch for are.
Do NOT give your cat any milk, food, salt, oil, hydrogen peroxide or any other home remedies! Also, never induce vomiting without talking to your veterinarian or Pet Poison Helpline – it may be detrimental or contraindicated to induce vomiting.
As with any day of the week, holiday or not, COVID or not, be mindful of your pet and that what we do can affect them. Wishes to everyone for a safe and blessed day.