July 13, 2013
The Happenstance of Cats Loving Naps, Animal Advocacy, and Ellen DeGeneres
We've all had it happen – those happenstance moments in life where it seems you are destined to meet someone for a significant reason, but you don't know why at the moment. For me, that chance moment actually happened to Dan, and the person he met was actually meant for me.
Dan was on his way home from a business trip in Boston several months ago and had a connecting flight through Baltimore before his return flight to Fort Lauderdale. The flight was crowded and Dan who is an imposing figure at over 6 feet tall, happened to be in the same seating row as another gentleman who was of equally imposing stature. In the middle of these two gentlemen was that lone, tiny, and unwanted middle seat. Knowing that his flight was already going to be cramped and uncomfortable for him, he quickly realized it would be far worse as he saw the next few passengers in the aisle looking to board who were also of imposing size. That is, with the exception of a young and very slender woman he had not seen at first, and once he did, he immediately offered her the middle seat as a practical solution.
The story doesn't begin right away as you might suspect. The majority of the flight had gone by and this woman spent most of her time talking to the other gentleman. Not deliberately eavesdropping, Dan zoned in and out of her chatter and heard that she was a newlywed from the Baltimore area and also did charitable work. Nothing too unusual about that. However, it turns out that when she got married, the entire wedding (click here to read the feature story in the Baltimore Sun about her wedding) was done in an animal rescue theme to bring awareness to local animal rescues and the charitable work she did was through a company she had founded called Cats Love Naps, which started as a means of making cat beds to help raise money for an 8  year old black cat that she was fostering, and eventually adopted, who had significant health issues that resulted in mounting vet bills. Do you see where this is all going?
Minutes away from landing, Dan just knew he needed to interrupt her conversation and introduce me to her, even though I was not physically present. He wanted to let her know I was an author, blogger, and cat advocate and that we needed to make a connection. He wasn't sure why he felt the need to let her know this, but somehow he just sensed that she and I needed to know one another. She was thrilled to learn about me and told Dan she wanted to send our kitties a homemade bed in a custom leopard print to try out and review. They exchanged information and I was pleasantly surprised to receive an email from her shortly after. We hit it off immediately and I offered to send her a complimentary book in exchange for her cat bed.
Well, once the cat bed arrived, the cats fell in love with it. It is like a giant chenille bowl of fluffy comfort and it is obvious it is made with an extreme amount of love and care. The only way I can properly describe how it must feel to a cat, is to compare it to that feeling of reassuring comfort you get when you put on your favorite worn out, soft, and warm and cozy bathrobe after a long and stressful day. It is just a wonderful hug of pure contentment and that is how the kitties feel when they nap on it – pure bliss.
So, who is this wonderful woman? Her name is Liz Wyman and she is what I would call an "old soul." She is one of the most generous, giving, thoughtful, caring, compassionate and unselfish people I have ever not met in person and what she did for me recently completely blew me away, although because that is who she is, it really is no surprise.
If you might recall, I declared June 8th "National Deborah Barnes is Trying to get on the Ellen DeGeneres Show Awareness Day" and begged asked you to submit emails to Ellen on my behalf to get me on her show, of which many of you did and I am so appreciative and grateful for. I honestly was not expecting anything else, but Liz took my request to a different level, so much so that she has devoted herself to helping me make my dream come true! Out of nowhere, she surprised me with an email saying she was going to send Ellen the copy of the book I had given her, a Cats Love Naps bed, and a letter on my behalf. I told her she did not have to go to such extremes, but not only did she want to, but she went out on a  "get Deb on the Ellen show shopping spree" and bought all kind of fun little kitty items, including a cute little leopard patterned hat with ears! I told her to keep the book I had originally sent her and sent her another one that I autographed for her special project and let the fun begin. She sent me a progress report via pictures of what she did and I am happy to share some of them with you.
I don't know if this will get Ellen's attention, but it certainly got mine. We live in such a stressful, often disjointed world, yet here is a woman, a virtual stranger in the scheme of my life who has opened her heart to me with no expectations in return, other than it makes her happy to make others happy. I love her message and it inspires me even more to reach out with kindness to others when I can.
I will keep you posted if we hear anything and hopefully one day I will be telling you all to tune in to the Ellen show to watch me crown Ellen with leopard cat ears. In the meantime, if you are looking for that purrfect pet bed for your beloved kitty, please check out the Cats Love Naps site. You will note that our very own Harley is the model gracing the home page and I don't think she has left the bed since we got it! All the beds are lovingly made by hand from recycled materials such as old blankets and towels and they come in a variety of fun patterns and colors to choose from. Plus, 10% of the proceeds go to several Baltimore area animal shelters!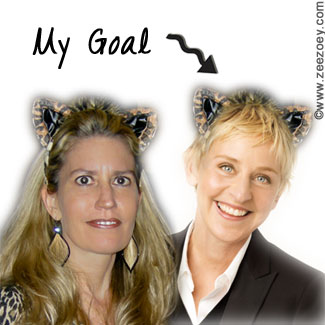 Have a wonderful weekend all – I hope you enjoyed meeting Liz and I will have a touching guest post this August where she will fill you in on just how Cats Love Naps came to be and why black cats are so special to her.
And as a reminder, don't forget to vote for your favorite blogs for a Pettie and a chance for them to win $1000 for a rescue or shelter of  their choice! Zee and Zoey is up for "Best Designed Blog"-  voting is open until July 31st and you can vote once a day.