August 25, 2012
Sunny Seat and the Last Lazy Days of Summer
At our house, we have a lot of stuff – lots of cats, lots of windows, lots of birds, and lots of sun.  So, when a Sunny Seat sample arrived in the mail for Zee and Zoey, it wasn't too hard to figure out why it was sent to them. The only real question was which of our seven cats would take to it first?
The seat itself is a relatively ingenious and simple concept – lightweight plastic tubing is the framework for a canvas bed and the fully assembled unit  attaches to  a window with four suction cups that can hold weight up to 50 pounds (yikes, that's one big kitty). That's all well and good, but before we could put the seat up, naturally I had to work my magic and turn the neutral colored Sunny Seat into the "Sunny Leopard Seat" as I designed a custom leopard pillow for the seat. 
For those of you that are not crafty, don't panic, it's only my own personal obsession with leopard that necessitated me getting out the sewing machine out of storage. You don't need a pillow for the Sunny Seat, or, if you do, you can buy some sort of padding at any pet store. Did the cats care about all of my extra effort? Not really, but it made me happy to pretend they did…
I must admit that when we first put the seat up, it was met with a mixed reaction, meaning no reaction. The carrier for the sewing machine was of far more interest to them, and being that it was not a box, paper bag, or wadded up piece of paper, the cats had to warm up to the idea of something foreign adhered to the window so we left them alone. Or, should I say, after we chased each one of them down and plunked them on the seat to watch them instantly jump off it, we left them alone. It's always best to let a cat make up its own mind.
Sure enough, the next day without any warning whatsoever, there was Peanut snuggled up as cozy as can be on the Sunny Seat immersed in a deep, blissful sleep. The seat is positioned so that she gets a bird's eye view of the birds and a bird's eye view of Dan who works from home. They are best buddies, so I am sure she was in heaven and dreaming of the last sunny days of summer, although here in Florida, it is somewhat difficult to tell when one season ends and the other begins. The only real way we know fall is coming, is that school has started and the days are getting darker a bit earlier, but for Peanut,  none of that mattered other than she gives the Sunny Seat her paw print of approval!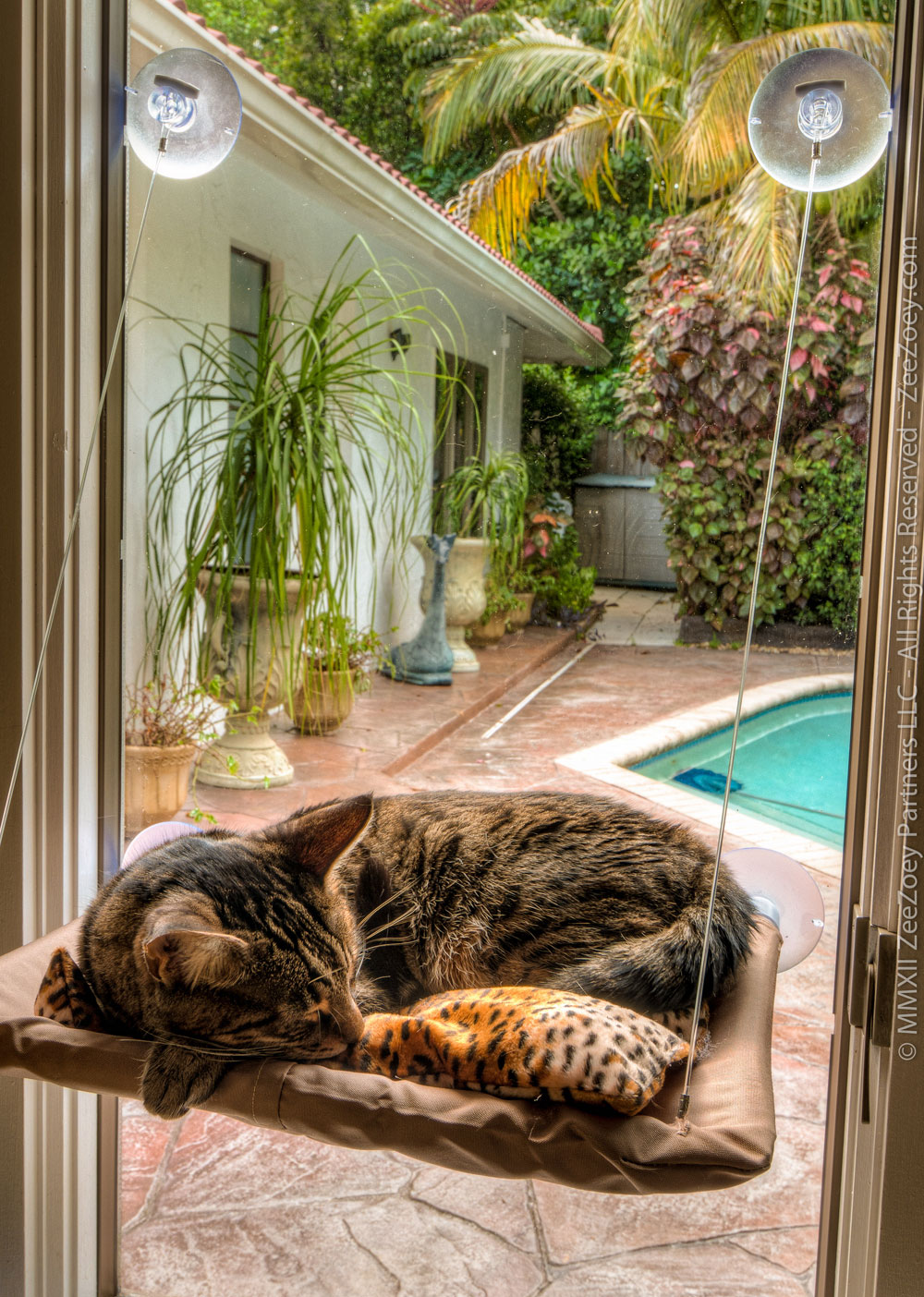 We were not paid for this commentary and want to remind you that Sunny Seat is one of the many generous sponsors for Zee & Zoey's First Annual Cat Ruler of the World Contest that we are hosting. Please be sure to stop back on Tuesday the 28th for our first scheduled debate with the Cat-idates and another chance to leave a comment on our blog for a chance to win your own Sunny Seat as well as a truckload more of pawsome prizes from our other amazing sponsors!!