October 24, 2012
My Book Review of "Purrs of Wisdom – Conscious Living, Feline Style" by Ingrid King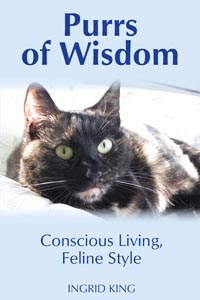 Some books are read with on edge anticipation, such as a murder mystery, some are read at stolen moments before you go to bed, such as a romance novel, and some are meant to be read to cleanse the soul and rejuvenate the human spirit. That would be the case of Purrs of Wisdom – Conscious Living, Feline Style by award winning author, Ingrid King.
A collection of heartfelt and earnest essays based on her popular "Conscious Cat Sunday" column on The Conscious Cat blog, each essay will strike a unique and personal chord with readers as King offers her "purrs of wisdom" to us harried and over-achieving humans in the form of lessons learned from her feline teachers – both past and present, who have perfected the art of living life without undue stress, anxiety, and guilt.
My favorite essay is one that I was already familiar with through King's blog – "Lessons from a Maple Tree." With an exquisite translation of words that give the reader a stunning visualization, King shares the meaning of a now 25 year old maple tree that has been part of her life through both joyful and challenging times. During peak time, when its leaves turn colors, they become a bright, vibrant red that infuses her bedroom with a warm, red glow. The lesson from the tree is so simple, but one we often forget to learn as people – not only is it okay to take a break from the everyday rigors of life, but it is healthy and therapeutic. She writes:
"…I had a busy week, but on one day, despite a to-do list a mile long, I dropped everything and simply sat by my window for an hour in the middle of the afternoon. I let myself soak up the brilliant light of the tree.
And afterwards, I felt absolutely amazing. Allowing myself to take an hour in the middle of a busy day to do nothing – without feeling guilty about it – was a wonderful experience. I felt grounded and peaceful. I also felt energized and went back to work with renewed enthusiasm.
Doing nothing without feeling guilty is something all my cats have taught me over the years, and my maple tree reinforces the lesson. As a culture, we tend to always feel rushed, and many consider being busy a badge of honor. However, there is a great value in doing nothing, in simply being…"
Much of what she shares is common sense, it is just a matter of executing the subtle reminders that our bodies give us – that we need to balance spirituality, healthy eating, exercise, and peaceful time away from technology, TV, social networking, and  life's endless responsibilities to become more connected and centered to our inner selves. Unfortunately, despite it seeming simple on the surface, that is the hard part, and even King admits that her own advice and lessons learned from her cats is not always easy to follow.
My suggestion – take the first step – find a delightful sunbeam in your house, curl up with a cat on your lap and a steaming mug of your favorite beverage at your side and read this book without distractions or clutter to your mind. Don't rush it. Read it, ponder the advice, reflect about your own life and how you can apply the lessons King shares to make your own world just a bit more healthy – both in mind and spirit, so that eventually the lessons become second nature to you.
This is a wonderful gift for anyone who could use some warm, reflective, and thoughtful advice on how to tackle the stresses of today's world. While having cats makes the experience even more enriching and I highly recommend all households have a cat in them, it is not necessary to have a cat to appreciate the meaning of this book!
About the author:
Ingrid King is the award-winning author of Buckley's Story: Lessons from a Feline Master Teacher. She is a former veterinary hospital manager turned writer. Her popular blog, The Conscious Cat, is a comprehensive resource for conscious living, health, and happiness for cats and their humans. The Conscious Cat has won multiple awards, including DogTime Media's 2012 Pettie for Best Cat Blog and 2011 Pettie for Best Pet Blog and About.com's 2012 Readers' Choice Award for Best Website About Cats. Ingrid is the publisher of the online magazine News for You and Your Pet, which goes out to subscribers around the world. For more information about Ingrid, please click this link.
Purrs of Wisdom is currently available at Amazon for Kindle and the expanded print edition will be out next month.
Congratulations to Ms. King on this wonderful book, and congratulations also to Kelly of Whataslacker.com – she is the winner of our Julie Newmar book giveaway and will receive an autographed copy of  The Conscious Catwoman Explains Life on Earth.