March 9, 2014
Mr. Jazz Makes a Visit and Earns a Nomination in the BlogPaws Nose-to-Nose Social Media Awards for Best Pet Blog Post
Last night after dinner I was in my office catching up on things – no surprise there. I try to make use of my time as best I can and I was putting together some materials for my upcoming trip I will be taking to the Global Pet Expo in Orlando. I have never been to this event, but since it's close to home and won't break the bank, I thought it would be a great opportunity to meet some new people, catch up with friends, and learn about all the coolest cat products and trends that are on the market to share on Zee & Zoey's blog. Dan will be coming with me for the first time and it will be nice to venture out with him instead of leaving him home with the cats. My oldest son who turns 30 today (sigh) will be cat-sitting, so there you have it.
What made last night more unique was my visitor. Please don't think I'm crazy, but ever since Mr. Jazz crossed the Rainbow Bridge last August, sometimes I see him in the house. Mostly it's when I'm on the couch watching TV – I will catch a glimpse of him down the hallway as if he's getting ready to lie on my chest like he had done a thousand times before, and sometimes I feel him lying on top of my legs in the bedroom at night.
As time has gone by, my visions of him have lessened significantly – I don't know if he felt I needed him and he hadn't quite crossed the Bridge because he wasn't ready to leave me, or if it is him in some spiritual and ghostly sense, perhaps with some lesson he is trying to teach me. I just don't know yet, but I don't question it and it doesn't scare me. I do see him and it brings me comfort to have him with me, so that is that.
Last night, however, he came into the doorway of my office for the first time. I was sitting on the floor with some papers and Rolz was beside me, quietly supervising. Rolz is an eternally patient cat and will sit on the floor every night until I am ready to call it quits to go watch TV. Usually I'm on the computer, but this time I was on the floor with Rolz, facing the door, and that's when I caught a glimpse of Jazz.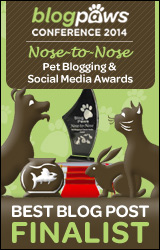 I didn't give it much thought and about an hour later I went to sit on the couch. This time Jazz came with me and when I settled in, I could feel the weight of his body on my chest like he had done with me every night in the past when he was alive. I can assure you there was no doubt he knew I needed him. I had been experiencing an emotional unbalance that night and he was trying to help me find my center. I felt myself take a deep breath and after that I randomly picked up my iPhone and saw a notification on Facebook from BlogPaws – the blog post I had submitted to Blog Paws for the Nose-to-Nose Social Media Awards had been selected as a finalist. The post I submitted for consideration – the tribute I had written to Mr. Jazz after he died.
Somehow he must have known it was coming and wanted to share the moment with me. I just don't know. It's such a bittersweet blur of emotion and all I know for sure is that I am truly humbled it was selected. The outpouring of love and support I received from that post still moves me to this day and Jazz remains forever in my heart, my feline muse, friend, and inspiration. So much so that I have begun to write his story and hope to have a book in the near future. I have the outline of the book done but as you can imagine, it isn't so easy to write. First off, because I had to let him go all over again, reliving it through words, and also because the story is being written from the viewpoint of Jazz himself, so I have to write as I imagine he would think.
I think perhaps that has been the message all along – Jazz wants his story told, not to make people sad, but as a story of joy and celebration of the moments we do have with the animals we love. Just like the post I wrote to him that was aptly titled, "A Tribute to Mr. Jazz – The Dignity of Life and Death and Finding the Beauty in Letting Go," the story will reflect a cat that lived a long, happy, and content life.
What about you? Have any of you had a pet that stayed with you from the beyond? I would enjoy hearing your stories if you wish to share them.
As a follow-up to this post, thanks to the message Mr. Jazz was trying to share with me, two things have occurred – we have adopted a rescue kitten named Jazmine and Purr Prints of the Heart was published. For further details, please check out these special links:
Global Pet Expo 2014 – Happy Endings and New Beginnings
Coping With Pet Loss and Grief: Purr Prints of the Heart – A Cat's Tale of Life, Death, and Beyond by Deborah Barnes