December 10, 2013
Kittyo for Cat Parents – Revolutionary Device to Let You Play and Interact With Your Cat While You are Away!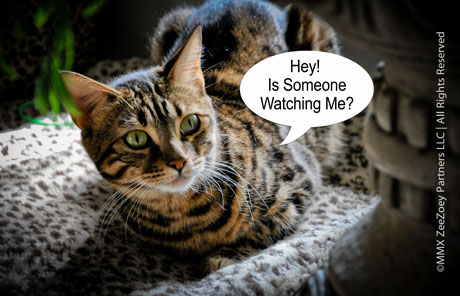 You know those kinds of companies like Google or Apple or Facebook or Microsoft where they initially introduce a new product, technology, or concept and you just instantly know that they are changing the world as we know it forevermore? Well, hold on to your furry paw pads because I think it is going to happen again, but this time the technology is reserved for us cat parents who miss and worry about our feline friends while we are away from home!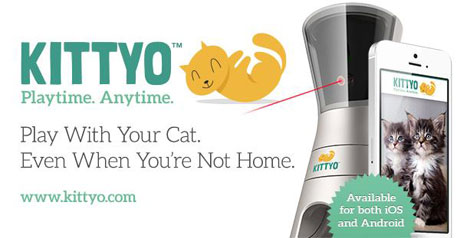 That's right, inventor Lee Miller, has come up with a revolutionary, fully interactive new product – the Kittyo that lets you watch, speak to, play with, dispense treats, and record your cat when you're away! I don't know about you all, but when it comes to me, even going to work for the day leaves me unsettled. First of all, I do a head count before I go to make sure they are okay and then I think about them throughout the day, missing them and wondering what they are doing.
When I travel out of town, forget about it – I am a wreck, worrying about them all the time, even though I have someone come in to take care of them. Having an interactive product that would enable me to watch, play, and speak to them when I felt the urge would give me enormous peace of mind.
I wish I could give you an actual demonstration but this product is still in its pre-launch stage and that's why it's so exciting. A Kickstarter campaign will begin in early 2014 to bring the Kittyo to market and if you want to be one of the first on the list to get one for yourself (without waiting in long lines like you have to do for the new Apple products) all you have to do is sign up with your email at Kittyo so that you can be updated about how to purchase Kittyo at an introductory discounted price!
Even though I can't show you the actual product, I can still tell you about all of its high-tech, revolutionary features and how it operates:
– No restrictions on distance – communicate and interact with your cat from around the world.
– Records videos and takes photos of your cat while they are playing.
– Interactive laser pointer can be enabled to add fun and exercise to your cat's day.
– Dispense your cat's favorite treats while you are away.
– Push button feature to talk directly to your cat.
– Modern, streamlined design is only 7″ tall and can easily clamp to a shelf or attach to a wall so that kitty will not knock it over.
– Available through both iOS and Android smartphone apps.
So yeah, sign me up… If I can be even more obsessed with my cats, then I am completely on-board with the concept. I would probably use the Kittyo to interact with  my cats even when I was at home with them just for the fun of it. But let's be honest – more than anything, I would just want to be able to peak at them now and again on my iPhone to see what they are doing. I would put my Kittyo in the living room because that is where most of my playtime with my cats takes place and this is what I imagine I would see:
Thank you to Kittyo for the opportunity to present the concept of this product. It should be noted that I am being endorsed for this blog post and while I have not personally tested it out, I am still providing it to Zee & Zoey readers as a matter of interest because it is a product I am personally intrigued by and felt my readers would be as well.