October 3, 2015
Fall is Here! Time for Squirrel Watching on Cat Window TV!
We all know what summer TV can be like for us humans – a vast wasteland of repeats and sub- quality programming. The same can be said for CWTV (Cat Window TV). Sure watching birds, lizards, and bugs outside the window on a hot day can cause a tail to twitch, but after awhile, where's the drama and intrigue? Yeah, the Blue Jays squawk a lot and the Morning Doves like to build nests in the hedges, but it's relatively tame viewing and that's why my gang is so happy fall is here because it means the squirrel channel on CWTV is back for a new season!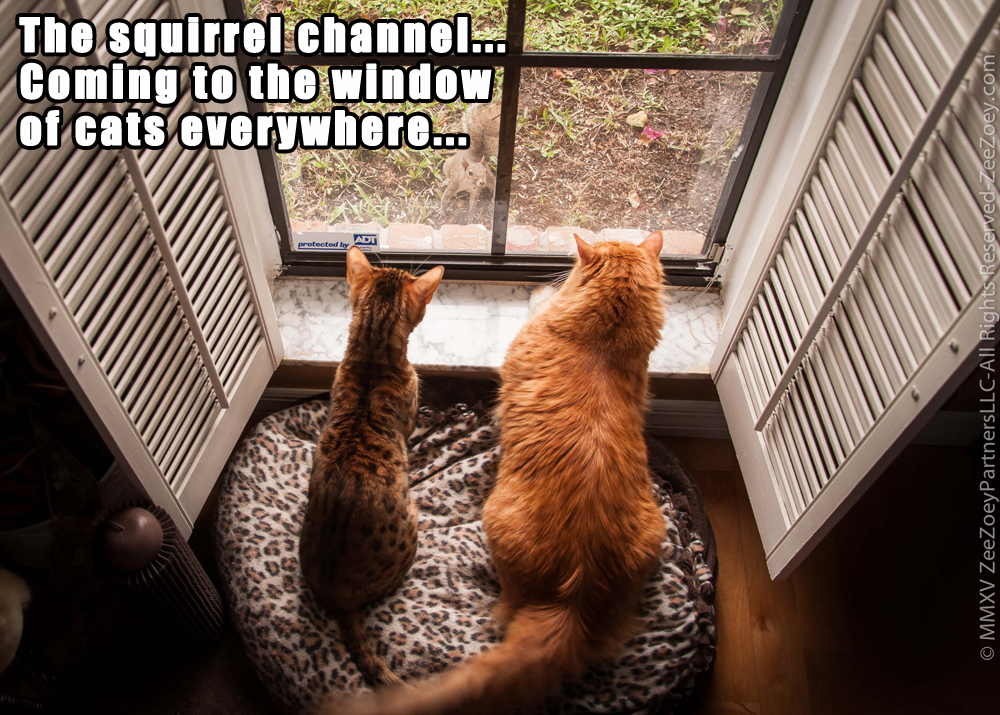 Squirrels are the premium of all premium channels for a cat because these bushy-tailed clowns can provide edge of your seat entertainment for endless hours as they chase one another around the yard for a measly peanut. Will they eat the peanut? Will they bury it? Such cliffhangers…
And the boldness of the plot lines – just how close will that squirrel come to the window to taunt the cat? And how many times will it run back and forth across the road for no apparent reason other than to give humans a heart attack for fear they will get hit by a car. Stop doing that, squirrels!
Speaking of humans, while it is CWTV, humans seem to love the channel just as much as the cats do. At least I know I do. When my gang settles at the window to watch the show, more times than not, I am with them too. I just find squirrels so irresistibly cute that I can't stop myself! The best is when I go outside to feed them and Jazmine will watch me doing it, completely incredulous that I would dare to come so close to the furry enemy!! It's compelling TV, people, it really is!
How about your cats – do they have a favorite channel on CWTV?