January 4, 2012
Turning the Exception to the Rule – My Interview With Jackson Galaxy of "My Cat From Hell"
"What I Did on My Winter Break" by Debbi Barnes (with the "i" in my name dotted with a heart). Remember those essays we had to write in class after winter break? If you had told me a couple of years ago that I would be sitting at home waiting for my phone to ring to interview a Hollywood Cat Behaviorist who had his own TV show, I would have thought you were nuts. Well, here it is, January 2nd, 2012 and I am sitting in front of my computer in my sweats, doing that very thing as I get ready to write about what I did on my winter break…
In case you have not heard of him or the news, Jackson Galaxy, cat behaviorist and cat listener extraordinaire is returning for Season 2 of "My Cat From Hell" that premiers on January 7th at 8 pm on Animal Planet. Hoping to spread the word about his show, Jackson was kind enough to reach out to a few of us cat bloggers to help in his crusade to educate the world about the ever-growing cat community.
Nerves on high alert, moments after I received his call, I quickly learned that Jackson is an absolute pussy-cat and delight to talk to. No Hollywood airs, no pretentiousness, and nothing other than a conversation between two people who share an enormous love and respect for the feline species… This was going to be a lot easier than I thought and my jittery nerves calmed down immediately. This guy was for real.
Jackson has been working with cats for over 16 years – from his time in a high stress cat shelter at the Humane Society in Boulder Valley Colorado, to teaching cat behavior, to personal consultations with clients in a one-on-one situation between himself and the cat with behavioral issues in question, he has seen and done it all when it comes to cats. I was curious – did he pitch Animal Planet with the concept of the show or did it come about by some other reason?
He says it all happened by chance – he had moved from Colorado to Los Angeles 4 years ago and was teaching a class on cat behavior that happened to be attended by someone in reality TV. A light bulb went off with this person and he brought the idea to 3 Ball Productions who pitched the idea to Animal Planet. Jackson said he had very little involvement at all and the process happened rather quickly after that.
A pilot was shot, and believe it or not, the hard part was sealing the deal for a green light and about a year went by before the show was actually picked up. Jackson elaborated that the cat world has a long way to go and the perception by the media and the public was hesitant at best. Historically, consumer money was spent on dogs. Would people buy into the concept of a reality show about cats? Jackson's immediate reaction was "Hell yeah we will," but he had a much more logical and difficult concern to address. Would the cats cooperate for filming? Take one scared and difficult cat and mix it with strangers and a camera crew… Clearly, Jackson did not have a guarantee for that, so it was an uphill and risky battle getting the show on the air.
Since I live and breathe cats, I found this to be quite fascinating and somewhat incomprehensible. This is especially true because I am part of a very devoted, like-minded and compassionate circle of people that are completely focused on the feline species. We already "get" cats. But, the more I thought about it, the more I realized how true Jackson's statement was and why our efforts to educate the world that cats have an array of feelings, emotions, and needs, and are not just collectively one stereotypical lump of independent, aloof, and un-trainable creatures, remains critical.
In essence, he concludes, "We need to educate the consciousness of mainstream America that cats are not furniture, they are not fish, they are not dogs, and they don't have one unique personality trait – they are individual creatures with individual needs." According to the Humane Society, over 35 million U.S. households have cats, and over 1/3 of these cats have behavioral problems. For Jackson, the solution is simple, we need to "up the level of investment" in our cats and realize that cats have needs that must be met in order to thrive in a home, just like a child would. He feels too many cat owners currently see that mindset as the exception, not the rule, and he wants "My Cat From Hell" to help change their misguided perceptions.
For example, he cites a wealthy client who had a sprawling home for her many cats. For some reason the cats were causing problems and she could not understand why. Upon closer inspection by Jackson, yes, the cats had a lot of square footage to live in, but no real life. There was a vast barren wasteland devoid of vertical space, toys, and proper stimulation for a cat to exercise its mind and body in.  I think for many cat owners, they may erroneously or unintentionally think that a bowl of dry kibble and a litter box is all you need for your cat to survive. In their minds, they have given the cat the bare essentials and think they have done well by the cat, but do not realize that a cat needs so much more to be the multi-facted and intelligent creature they are meant to be.
I wholeheartedly agree with him and my own light bulb went off. While I will certainly promote his show in my circle of friends, that is not where the difference will be made. It is up to me to reach outside of my box and try to find a new audience to watch his show – if we all can do that, it will be a small step towards a much larger goal that we all share – to make the world a better, happier, and healthier place for cats. The bottom line is simple – we want less cats dumped in shelters for behavioral problems and we want more cats to be adopted into homes that already understand that a proper environment must be provided for this animal  to peacefully and happily co-exist in a human setting.
Jackson realizes he can't help everyone and is doing his best to branch out in other avenues. He is in the final stages of his first book, Cat Daddy: My Life with the Original Cat From Hell, that will be released on May 10th, 2012 and is available on Amazon for pre-order. This book was inspired by his grey and white cat Benny who he describes as "the most difficult cat he ever worked with." Benny has given him over 14 years of personal challenges to overcome and Jackson credits him, without getting overly dramatic, with "pulling him out of a very bad spot, of which he is sure he would not be here today, if that had not happened."
Benny taught Jackson many invaluable lessons, one of which his touchstone "3 step handshake" that was integral in initially building trust in leery cats in his shelter work. This technique has been honed to a one step technique that he continues to use to this day with all cats he meets. This will be described in detail in the book along with the challenges that Jackson had to face with Benny. The book will also feature a lot of  "how to's" for cat guardians who are unable to work with Jackson directly.
I decided the best way to end the interview was with a segment that focuses more on what we DON'T know about Jackson and I threw a few contemplative questions his way. Being that this interview was completely unscripted, I think I threw him for a loop now and then!!
Deb:   "You have been working with cats for over 16 years. What was your job prior to that?"
Jackson:   "Wow… well, after grad school, it has been a little of everything! I was a barista, a landscaper (rock lugger), I worked in a pawn shop, and I cleaned rental audio books with a toothbrush. Basically, I did anything to pay for cat food, tattoos, and guitar strings!"
Deb:  "You are also a musician and a songwriter. What kind of music do you write and if you could be in any band, past or present, what band would it be?"
Jackson:   "Hmm… Man, that's a good one…. Tough one to answer. I'm a rock and roller and R & B kind of guy. I guess if I had to pick a band, I would like to front for Prince's band for about a second and a half or be in Radiohead."
Deb:   "In article after article, you are referred to as a somewhat intimidating figure – a tall man with a shaved head and arms sleeves of cat tattoos. Many have likened you more to a Harley biker than a cat listener. Do you have a bike, or have you ever ridden one?"
Jackson:   "Do mopeds count? No, actually I'm not a bike guy, I've ridden them, but I'm more of a late 60's muscles car guy who loves cars when they were art and I loved sitting in that art."
Deb:   "We know you are writing a book that will be released on May 10th, 2012. Do you have a favorite author and what kind of books do you enjoy reading in your free time?"
Jackson:   "I enjoy authors such as Henry Miller who can combine the delicate and the surreal and because of my background in the theater, I also enjoy the playwright Tennessee Williams." (It must be of note here, I thought for sure Jackson would say, "what free time," but he surprised me, and did not!)
Deb:  "It's all about positive reinforcement and behavior with you and cats. Do you have any bad habits you need improving on?"
Jackson:   *Laughs*"Where do I start? Actually, I trimmed away most of them and my last vice is my "carby man-food" – pizza and pasta. Drugs, drinking, and smoking – I gave it all up."
Deb:  "Jackson, this was so much fun, but I know we have to start wrapping things up. Last question – the title of your show is My Cat From Hell.  What about Heaven? If it exists, what would you like to hear God say when you arrive at the Pearly Gates?"
Jackson:  "I really don't need to hear God say anything, but my worst nightmare would be if I got there and there were no cats and dogs. I would be lost without them."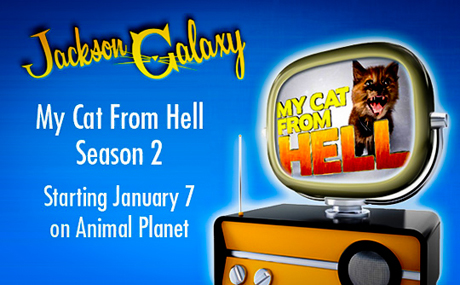 I'm with you on that one Jackson. We kind of chit chatted for a few minutes after that and I hung up feeling like I had made another dear friend. I know we will be glued to the TV on January 7th and hope we can help inspire a few more people to join us. I thank Jackson for very much for the opportunity to interview him and wish him many more seasons of My Cat From Hell.
For more information about Jackson Galaxy and My Cat From Hell, please visit his site at  http://jacksongalaxy.com/