December 19, 2011
Thank You to Pump Up Your Books Promotions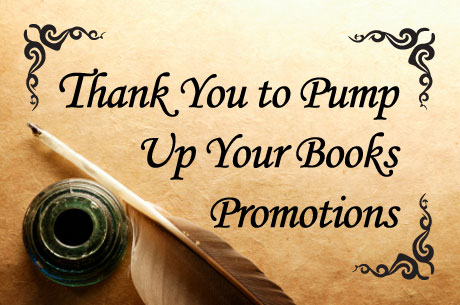 My virtual book tour for The Chronicles of Zee & Zoey has come to an end and I would just like to take this time to thank all involved. First and foremost –  Dorothy Thompson, Founder of Pump Up Your Books, was a joy to work with and how she keeps all her authors and reviewers straight with her brimming to the rim busy schedule, I can only imagine! I'm just managing myself and that's chaotic enough for me!
I would also like to thank all of the reviewers. For no monetary exchange whatsoever, they took the time and effort out of their equally busy schedules to not only read my book, but to do a professional and thorough review about it on their respective sites. These men and woman are the unsung heroes of the literary world and I am eternally grateful for all of their support and wonderful reviews they gaveThe Chronicles of Zee & Zoey.
I am especially thrilled that the reviews were positive!! For me, writing and publishing the book was like giving birth – a true labor of love and I obviously have a bias towards the story! There is no guarantee, however, that the rest of the world will have the same opinion and so in many ways, this tour was a nail biter and quite nerve wracking. What many of you may not realize, is that when a review goes up, I am not privy to it ahead of time… I am reading it for the first time just like anyone else can and would always keep my fingers crossed that the reviewer enjoyed the story!! You really do need to have nerves of steel in this industry and I am wiping a collective sigh of relief off my brow!
So, thank you again to Dorothy, Pump Up Your Books Promotions, and the Reviewers for such an amazing experience. For those of you that may have missed some of the stops or are new to my blog and would like to read the reviews, please be sure to check them out when you have a minute:
Monday, November 14
Interviewed at Virginia Beach Publishing Examiner by Dorothy Thompson
Tuesday, November 15
Book reviewed at Splashes of Joy by Joy Hannabass
Tuesday, November 15
Interviewed at Blogcritics by April Pohren
Friday, November 18
Guest blogging at 4 the Love of Books 
Tuesday, November 22
Guest blogging at Coffee and a Keyboard 
Monday, December 5
Book reviewed at Mad Moose Mama by Jennifer Chatham
Book reviewed at Book Reviews by Molly by Molly Edwards
Tuesday, December 6
Book reviewed at Reading, Writing & Ruckus Jolene Arrant
Thursday, December 8
Book reviewed at Ohio Girl Talks Vanessa Brooks
Book review at Libby's Library News Elizabeth T. Neas
Friday, December 9
Book reviewed at Sweeping Me by Mary Reiss
Monday, December 12
Book reviewed at The Road to Here by Judy Weber
Book reviewed at Literarily Speaking by Dorothy Thompson
Tuesday, December 13
Book reviewed at Cafe of Dreams by April Pohren
Wednesday, December 14
Book reviewed at Everyday is an Adventure by Lindsay Horne
Thursday, December 15
 Book reviewed at Create with Joy by Ramona Vincent
Friday, December 16
Book reviewed at The Book Connection by Cheryl Malandrinos