June 10, 2015
Purr Prints of the Heart – Guest Post and Fundraiser for Advocates 4 Animals
I was given the opportunity to share a guest post about Purr Prints of the Heart – A Cat's Tale of Life, Death, and Beyond as written in the voice of my dearly departed cat, Mr. Jazz, on the Kitties in the City blog site. Kitties in the City is a beautiful and informative blog that was created by the talented, award-winning author and pet expert, Stacey Ritz, who is also my dear friend and the Executive Director and Co-Founder of Advocates 4 Animals, Inc. – a 501(c)3 feline welfare organization based in Greene County, OH. Advocates 4 Animals (A4A) is one of my favorite rescues and Stacey gave me the option of having the post go up in late May or early June. Being that June is Adopt a Shelter/Rescue Cat Month and it also marks the one year anniversary month of the unexpected passing of my beloved rescue cat, Harley, (June 24), I knew I had to pick the June date.
My motivation was actually deeper than that. Harley, Mr. Jazz, Purr Prints, and A4A have an interconnection that is special to me and I wanted to pay tribute to that relationship by helping to raise funds for the rescue cats at A4A as a way of thanking them for all they do to help feed, shelter, and find homes for them.
For this particular guest post and aspect of Purr Prints,  I decided to expound on the nature of the human-feline bond and how strong it is, because when a person ultimately decides to adopt a cat – whether it is through a rescue organization, a reputable breeder, finding a stray, or any other multitude of reasons – it is typically done with the full knowledge in the scheme of their own human time frame of life, that ultimately the pet will leave them and they will have to say goodbye. The basic premise of Purr Prints, as Mr. Jazz tells it, is despite that inevitably of loss, we still bring them into our hearts and homes, because in the long run, the unconditional love, happiness, and companionship a pet provides us far outweighs the eventual pain of letting go.
Mr. Jazz also explores the bond between pets themselves in Purr Prints, as he was a cat that lived in a multi-pet home for all 15 years of his life. One of the most compelling chapters of the book, "One Last Gift," is how cat companion to Mr. Jazz, Harley, reacted when she instinctively knew Jazz was nearing the end of his life. Harley was not a cat prone to venturing anywhere away from the living room couch where she preferred to nap her days away, but somehow she knew a goodbye to her dear friend was in order.
Jazz writes,
"One night, just like any other night before Mom went to bed, she brought a blanket to lie down with me. Harley came with her, and this time rather than settling next to Mom, Harley put her body next to mine. Mom tried to shoo her away, thinking she might be bothering me, but Harley insisted on staying and put the girth of her body next to mine, almost willing her love and warmth into me.
Mom realized Harley was saying goodbye to her friend, so she let her stay. It was a very beautiful moment for all of us, and it gave me an opportunity to tell Harley it was okay – that I was okay with it all. I knew I was dying and I wasn't afraid. I told her I'd had a wonderful life – so many great memories – and it was up to her and the others to take care of Mom and Dad now."
A mere 7 months after we had to help cross Jazz over the Rainbow Bridge, we had to unexpectedly say goodbye to Harley and cross her as well. It was a brutally tough moment for me, but somehow, through the worst of my disbelief and pain, Jazz came back to me to reassure me that Harley was in a better place. Far too lengthy a topic to discuss here, but shared in detail in Purr Prints,  all I can say is that I have been very blessed to have been given the gift of having Jazz come to me in the afterlife on occasion and one of those occasions was to let me know he had met Harley at the Rainbow Bridge and that she was okay.
As I wipe away my tears in memory of it all, in honor of what Mr. Jazz would have wanted me to do – find the beauty and dignity of letting go – I will be donating 10% of the proceeds of the sales of Purr Prints to A4A between now and the end of the month. The special connection – Harley was the cat cover girl for the 2013 A4A calendar and I believe it is the purrfect tribute to my feline friend who left this earth far to early, but stays in my heart, never forgotten.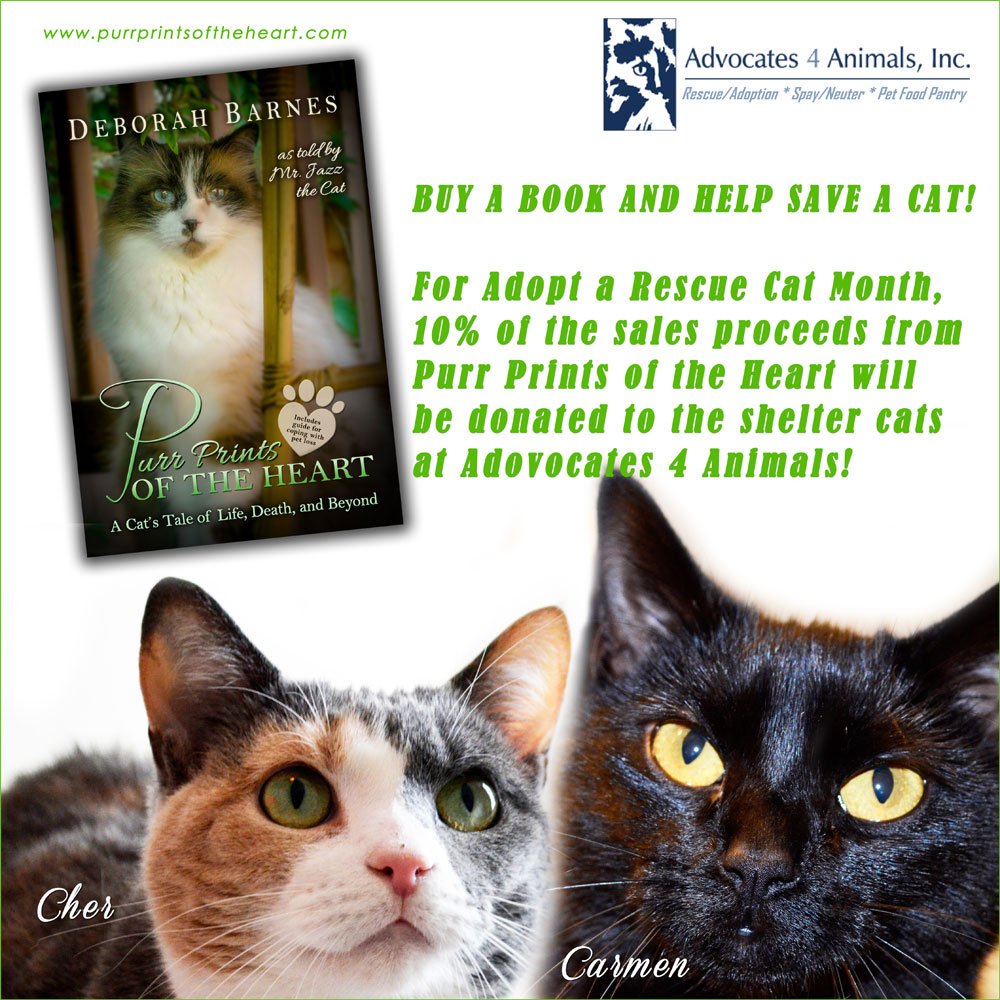 To read my article in full on the Kitties in the City blog, please click here. To find details on purchasing PurrPrints of the Heart, please click here. And to bring your donations to life, I want to share where your money will be going. These are just some of the beautiful cats at A4A that are up for adoption – your donations will help keep them fed, clean, safe, and warm until they can find their wonderful furever homes.
CHER – Cher is a dilute calico and A4A rescued her when her time was up at a local animal shelter. Cher was emaciated and in need of love. Since rescued by A4A, Cher is now spayed and fully vetted. She is a total lap cat and loves to snuggle. She also loves to play. She loves everyone she meets and is an absolute sweetheart! As many adopters choose to adopt young kittens, Cher has been waiting for over a year for adoption and she hopes to find a loving, furever home to call her own soon!
CARMEN – Carmen was dumped on the side of the road when her guardians relationship ended and no one wanted to keep her. Abandoned in her pet carrier, A4A rescued her. Carmen is now spayed, fully vetted and ready for adoption. She LOVES everyone she meets and would love to beat the odds by finding a new home soon, as short-haired black cats statistically wait longer for adoption.
To see all of the beautiful adoptable pets currently at A4A, please click here for photos/videos/bio's/contact info.