June 18, 2011
Mia's Caturday Adventure – A Trip to the Mall
Ever since Human Mom (HM) was a little girl, she loved playing dress-up and with paper dolls and Barbie Dolls. Now that she is an "adult," she has a house full of porcelain dolls and teddy bears because they are "collectibles." Sure HM, whatever…. Well, now that we have this awesome blog, her new favorite thing is to torture us kitties with all kinds of cute clip art stuff so that she can dress us up for her own amusement! Well, truth be told, I actually like it too… so when HM asked us kitties if one of us wanted to go on a Caturday Adventure that involved driving, shopping, Malls, and dress up, I quickly raised my paw as the first volunteer! Any of you that know me, know that I am  the princess diva extraordinaire and my favorite thing in the whole world is wearing tiaras and the color pink!
So, HM sent me off to the Mall on a mission – us kitties are going to a birthday party for a new kitty friend we just met named Odin over at Cat Wisdom 101 and I need a NEW hat to wear so that I can look pretty and special! Buckle your seat belts everyone, here we go!!! (Even though I look spectacularly pawsome in my convertible, I have actually never driven before… this could get a bit hairy… keep your paws crossed that we make it okay!)
Well, we made it, but now where the heck do we park? Why is the Mall always busy no matter what time it is or what day it is? Don't you people have anything better to do? Sigh… I'll just leave the car here. Hope I remember where I parked it later on…
Okay, off to the hat shop. Oh boy! It's on the upper level and we get go on an escalator. Normally something like this might scare me, but I'm so excited about picking out a pretty hat for the party, that I'm going to try extra hard to be brave!
I'm just going to think off all those hats and how pretty they will look on me! Do I want something in pink, or should I go for something more wild like my Momma Zoey!? Oh look, I see an Orange Julius stand! Don't tell my HM, but if I have any money left from my hat, I'm going to get a pina colada julius!!! Yum! Okay… we made it – I see the hat shop! Let's get off this thing before someone gets hurt!
Oh my catness!!!! Look at all these hats!!! What am I going to do? There is just too many choices! Just give me a minute… I know I'll find the purr-fect one soon!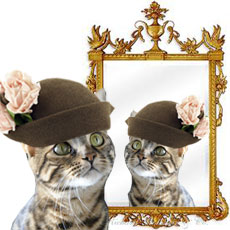 Okay! I found it! This is purr-fect – don't I just look like the prettiest little kitty ever! Look at the sweet and dainty flowers too! Uh oh, I have to stop looking at how pretty I am and go find my car before I miss the birthday party. Mama Zoey and HM would be really mad at me if I was late! Thanks for coming on this great Caturday Adventure with me everyone and have a pawsome weekend!
Love, Mia