August 22, 2017
How I Overcame My Fear of the Veterinarian for National Take Your Cat to the Vet Day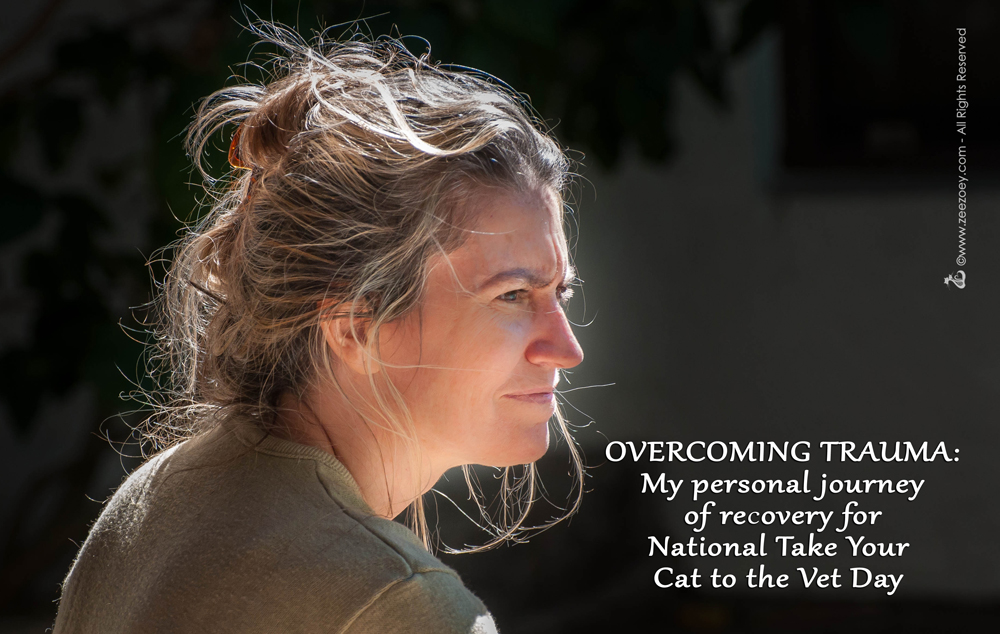 I adore my cats and would go to the ends of the earth and back for them. That said, I have a confession. Despite knowing how important it is to bring a cat to the veterinarian for routine check-ups, there was a time I stopped bringing mine altogether. It's not that I didn't want to bring them; it's that I literally wasn't capable due to extreme mental anxieties that were crippling me with fear. With today being National Take Your Cat to the Vet Day, I felt the need to share my personal story and how I overcame my anxieties so I could once again bring my cats to the vet on a regular basis.
I've had pets as long as I can remember and going to the vet was ingrained into my lifestyle. When I moved from Upstate New York to Florida in 1994, I moved with a dog, 5 cats, and a guinea pig in tow. My then husband and I were very lucky – we found a veterinarian close to our new home who we bonded with right away. Our family of pets expanded and he saw us through basic exams to a very difficult time when one of my dogs – my precious Golden Retriever, Bailey, succumbed to cancer at only 2-years of age. He was a regular visitor at our house, never charging us for his above and beyond care, and I felt blessed to have him in my life.
With time comes change and unfortunately, he had to leave his practice and moved quite far from us. I stayed on and began to build a relationship with the veterinarian who took over his position. Eventually, the practice was bought out by a larger corporation, the business relocated twice (but still in the same town as me), and the staff started to become a revolving door of people coming and going. My life eventually dwindled to a cat only household and I did my best to maintain a relationship with whichever vet was on duty, and while I can't say anyone was unprofessional or uncaring toward me or my cats, it just wasn't like it used to be.
In 2013 my trips to the vet increased, as my cat Jazz, now 15, was rapidly declining in health and it seemed I was there nearly every day getting him checked out for one ailment or another. When the time came and all solutions to prolong his life had been exhausted, I made the painful decision with my fiancé, Dan, to help Jazz cross to the Rainbow Bridge and we brought him to the vet's office to have the euthanasia done.
I was numb from pain for months after he was gone, but his death was not a surprise. I got to say goodbye to him and his last moments with me at home before we went to the vet were poignant and beautiful. Even the process at the vet was beautiful. The room was dark except for the serene glow of a single lit candle and the veterinarian on hand was kind and gentle, giving us privacy and respect as we said our final goodbyes.
I still continued to take my other cats to the vet for routine checkups, as well as for visits if something seemed wrong. One of those visits was with Harley in 2014, as she had begun to develop respiratory problems. She was given medication and I was directed to use a humidifier to help clear her congestion. A couple weeks went by and her situation did not appear to be improving, so I brought her back to the vet. She was dehydrated and given a shot for fluids, but at no time was I given any indication she might be in imminent danger. I brought her home and took her into my office to let her out of her carrier so she would have some peace away from the prying eyes of my other cats.
I came back a few minutes later to check on her and I found her on the floor where I had left her, in the throes of an extreme seizure. Dan called the vet who told us to come in immediately and he and I brought Harley together. After that, everything became a hazy blur – it was all so painful and surreal that I've blocked most of the memory from my mind. All I know is that I was holding her for one last time, telling her I loved her and that I had to let her go. I remember screaming in pain. I remember crying hysterically, and that was it. She was gone. No warning. No nothing. I am still incapable of processing the grief I feel and I remain in a fog of denial she is gone.
I felt disconnected, angry, guilty, bitter, and every toxic emotion you could think of ruled my mind, and my brain reacted in a violent fashion and completely shut down. Unfortunately, I wasn't able to recover – due to the location of my job, I had to drive past the vet's twice a day, and when I had to take any of the other cats in for random visits, I would break down in tears, reliving the memory of holding Harley for one last time. I simply couldn't take it anymore and it was a defense mechanism with me – if I don't take my cats to the vet, then nothing bad could happen to them.
I'm a rational person. I knew I couldn't live in a state of denial forever. Cats are masters at disguising illnesses and that's one of the reasons it's so important they receive routine check-ups. I had noticed my sweet Mia seemed to be acting out of character and that was the trigger I needed. I couldn't put her health at risk because I was emotionally unstable. I made the decision I had to find the strength to get past my fear, and the first step to recovery was a fresh start. In order to do that, I felt the need to find a new veterinarian, and I had a check-list of "must-have" requirements.
First and foremost, I wanted someone who wasn't part of a big corporation. I wanted someone who would be my sole veterinarian, not just whoever was on staff that day. Building a bridge of trust was integral to my healing and I needed stability. Location was also important. My cats become quite distressed traveling in the car, so I wanted a place close by. I also wanted a place where I felt personally comfortable. No disrespect intended, but unfortunately, the practice where I was currently at was becoming more and more beholden to preaching the virtues of processed cat food I didn't believe in and recommending additional services or procedures my cats didn't need.
I began by Googling all the vets in my area and took notes on office hours (weekend hours are very important to me) as well as where they were located and made a game plan with Dan to go visit each location in person to get a better feel for the place and to ask questions. We found a couple places we liked, and some were immediately crossed off the list. For example, if the stench of the facility can knock an army over, it's a deal breaker. Our favorite place turned out to be closest to us and we were overjoyed. It was clean, the staff was warm, knowledgeable, and friendly, and I loved the layout of the waiting room.
But I've learned over the years not to take anything at face value and step-two was the follow-up research – studying websites and literature, visiting social media pages, and reading reviews. This made my ultimate decision a no-brainer. The place I loved was not as it appeared – one of its commonly practiced procedures with cats was declawing, and that's a red-flag for me right away. There were also more bad reviews than good – across several social sites – so I decided it wasn't worth the risk.
I scheduled an appointment for Mia, and with renewed confidence, I began preparing for the exam. I brought her cat carrier out of storage several days prior to the appointment so she would become accustomed to it and not run off in fear the day of her exam. On appointment day, I left work early so I had time to interact with her in a calm manner before I picked her up and put her in the carrier. Cats can sense our own stress and react from it, so I wanted her to know she was safe and loved and that it wasn't a big deal.
When I got to the vet's office, I wasn't kept waiting long and I instantly connected with both the veterinary technician and the vet. Mia was examined, blood work was taken with the potential possibility of a urinary infection, and we went on our way. When I got home, I gave treats to all the cats so they didn't associate Mia's "new" odor with something bad and over the course of the next couple months, Dan and I brought two cats at a time for routine check-ups. I wanted to take my time with the process, both to ease my accelerated spending budget, and so I wasn't bombarding the cats all at once with stressful situations. By the third visit, I was getting along so well with the vet; she gave me a hug goodbye after the exam!
I can't say it still isn't a stressful experience – it is. I never enjoy rounding up any of them to put them in the car and I'm always slightly on edge during the exam. But preventative care for cats is so important. Especially in my household where my cats are getting older. Zee is nearing 12 years old, officially a senior cat, and because cats age much more rapidly than humans, they need to be seen with even more frequency.
Taking them two at a time was a great way to reduce the stress as well. They seemed to like the familiarity of having another cat with them during the exam. As a matter of fact, when it was Kizmet and Jazmine's turn to go, Kizmet wouldn't leave Jazmine's side while she was being examined. She was quite stressed by the ordeal, but him, he was completely nonplussed, even flopping over to expose his belly and flirting with the pretty technician!
Thankfully my cats seem to be doing well. Mia ended up being okay. We found out Peanut had a minor urinary infection that required an antibiotic and both she and Rolz had an ear infection that required drops. Zoey is allergic to fleas, something I am doing my best to manage and I also need to start brushing their teeth, which should be quite an interesting ordeal…
All I know is that I love my cats and it's my responsibility to do everything I can to ensure they live a happy and healthy life. I'm moving toward an emotional recovery and taking them regularly to the vet is a vital part of that journey.
During the month of August, post a picture of your cat or tips for taking your cat to the veterinarian on Facebook, Instagram or Twitter using #Cat2VetDay, and Royal Canin pet food will donate up to $20,000 to Frankie's Friends. Frankie's Friends is from Tampa, Florida, and provides grants to help with the cost of life-saving or life-enhancing emergency or specialty care for pets whose families cannot afford the full cost of treatment.