November 29, 2013
Zee & Zoey's Black Friday Mega Shopping Extravaganza, Giveaway and Fund-Raising Event!
Hi Everyone! And so it begins – the brawls, the fist fights, the pushing and shoving… No, we're not talking about going to a World Wrestling Federation Event, we're talking about the day after Thanksgiving… Black Friday… when all the shoppers come out in full force to take advantage of blockbuster sales and discounts for the holidays!
Well, here at Zee and Zoey's we're not really into crowds and mass hysteria, but we do love a good sale and holiday fun so in that regard we are SUPER EXCITED to introduce our Black Friday Mega Shopping Extravaganza, Giveaway and Fund-Raising Event for Cats and Cat Lovers!
That's right! We have put together a collection of our favorite tried and true cat related products that have withstood the test of time throughout the years in our household into an amazing grand prize giveaway opportunity for one lucky reader as well as all kinds of fun holiday discounts and deals and ways to help animals in need!
Now pay attention because just like shopping in the malls there is a lot going on in this event and we don't want you to miss anything! Go grab a quick cup of coffee, settle comfortably at your computer and let the stress-free shopping begin!
First on the list is a little something for you humans. We love, love, love the gang over at RCTees (if you don't believe us, just click here to read the glowing review the human did of them a few months ago). You'd have to live under a rock not to have seen them somewhere – their "Real Men Love Cats" t-shirt has hit the mainstream in a big way with such cat-celebs as Jackson Galaxy of Animal Planet's "My Cat From Hell" and author James Bowen of the heartfelt book, A Street Cat Named Bob, wearing them all the time. The human happens to own the "One Cool Cat" shirt and absolutely adores it. It is made from a wonderfully soft cotton that has that comfortable, lived in feel and it fits her perfectly. RCTees will be donating a t-shirt to the giveaway and the winner will get to decide on what style and color they want up to a $25.00 value. And for those looking to do some gift shopping now is the time to check out all the great stuff they have available – they are offering a 15% discount on all sales made on Black Friday, November 29th and Cyber Monday, December 2nd – just use code RCTeesBlackFriday15 for Friday and CyberMondayRCTees15 for Monday.
Website: RCTees  Retail Value: $25.00
We cats do a lot of things really well, but the thing we do best is nap and that is why this next item made the gift guide. The cat bed from Cats Love Naps as modeled by our Harley who literally sleeps in hers 24/7 is lovingly made by hand by our friend, Liz Wyman, and they are stuffed with new quilted batting as well as gently used towels, blankets, sheets, and fabric scraps that are laundered prior to using them in the beds (to learn more about Liz and how Cats Love Naps came to be, please click here to read our interview with her). We love that not only does Liz care about the environment, but she is a huge animal lover and donates 10% of the proceeds of all the beds she makes to local rescues in the Baltimore area where she lives.  Liz will be offering a cat bed in the fabric of the winners choice towards the giveaway prize and also will be offering a 10% discount for any upcoming purchases made for Zee and Zoey readers between now and January 31, 2014, as long as you mention our name when you email her to place the order. Right now she is booked solid for holiday orders, but she does have a really cool voucher that you can use as a gift certificate for future orders.
Website: Cats Love Naps  Retail Value: $30.00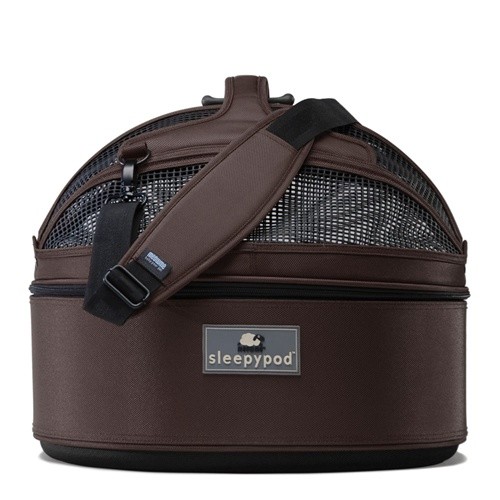 We don't always like to talk about cat carriers or going to the vet, but it's a fact of life that us kitties need to go, whether for routine checkups or emergencies. Paws down, the carrier that we recommend and endorse is the Sleepypod (click here to read our  full review). Its catcentric round shape, plush interior, and domed mesh lid gives us the sense of security we need, but it also allows the human to unzip the lid a bit to pet us and calm our nerves while we are en route or at the vets office. It was used a lot in Mr. Jazz's final months with us and it was such a relief to have a carrier that provided him with the comfort he deserved and needed during very stressful and difficult times. While the Sleepypod may be more costly than a standard carrier, it is so superbly crafted and versatile that is worth the extra expense. It's award-winning design is washable, attractive, practical, and so beautiful that it can also be used as a pet bed.  It would make a wonderful and unique gift for any cat or cat lover and as part of the prize giveaway, one lucky reader will win a Sleepypod in their choice of either a blue, brown, or black color. Sleepypod will also be offering a  special discount of 15% on all products this Black Friday only – just use the coupon code blackfriday2013  at check-out.
Website:  Sleepypod  Retail Value:  $179.00
What's the holidays without a good book about cats? We happen to be partial to the one that was written about US and for those of you who would like to know us a bit better, you can find out how it all began years ago… It's called The Chronicles of Zee & Zoey – A Journey of the Extraordinarily Ordinary and we answer such pressing cat questions as, Can cats fall in love? Can they count? Do they understand parenthood and responsibility? Can they sulk and get mad? Written in a warm, funny, and conversational way that harkens back to the days of the late Erma Bombeck and explores the everyday of life like a Seinfeld episode, this beautifully designed book is filled with hundreds of stunning photographs and will steal your heart as it explores our life, the humans who loved us and the true meaning of life, love, and happiness. It comes in a beautiful gift presentation and can be autographed. The human is offering free standard shipping for any orders placed on her website between now and midnight, Monday, December 2nd for U.S residents and will also be giving one away for the prize package.
This is one of the human's favorite reviews:
"I do believe that anyone who has a cat or cats should read this book. I am 70 years old and I could not put this book down once I started reading it. I laughed, cried and everything else that could be emotionally brought out of me. How would I rate this book? I would give it 10 stars. Great, great book."
Website:  The Chronicles of Zee and Zoey  Retail Value:  $21.95
We have to admit this next item was not something we were too sure about when we got it a couple of years ago to test out for our Cat Ruler of the World Contest and Campaign for a Cause. However, once we got used to it, the clever and easy to use Sunny Seat remains one of our favorite items ever. The Sunny Seat adheres to a window with special suction cups that can hold up to 50 pounds of cat and our Peanut especially loves this product (see our review here). Once she figured out that the seat cradled her body like a human lap and that she could absorb the delicious warmth of the sun while napping, she was hooked and uses the Sunny Seat daily. Sunny Seat is happy to be giving away one as part of the prize package.
Website:  Sunny Seat/Oster  Retail Value:  $19.99
Okay, we admit this next item is not too glamorous, but if you have cats, you need a good litter box and believe it or not it is not always easy to find one that both the cats and humans agree with. That was the case in our house until we were introduced to the innovative NVR Miss Litterbox last year during Zee and Zoey's Cat Ruler Contest. Our Rolz was guilty of litter misconduct – from lifting his tail and spraying urine on the wall to completely tipping the litter box over. After we received a NVR Miss to try out there were NO MORE ACCIDENTS! The NVR Miss is built with 11.25″' high walls to prevent spraying and the box is easy to get in and out of. Please read our review here for further details on how this litterbox works and NVR Miss will be contributing a litterbox to the prize package – the winner can choose from either a white or brown color.
Website:  NVR Miss Litterbox  Retail Value:  $18.80
Okay… so we're among friends here… what's a litter box without a little odor? Not that it bothers us that much since our human is obsessed with scooping, but one can never keep the air too fresh and the CritterZone Air Purifier is just the ticket to help out. The unit itself is small – 3"W x 4 1/2"H x 2"D – and when plugged into a standard outlet, works continuously to clean the air through a revolutionary technology designed to mimic the natural air-cleaning process that happens outdoors between the sun and odor pollutants. When our human first found out about this product last year she was admittedly skeptical – she had seen and heard it all and so when she agreed to try one out with us, she was sure it would be a waste of time. Well, we are happy to report that not only was she wrong, but she loves the product and believes in it so much, she just knew she had to add it to our list. You can read the full review here and CritterZone will be donating one to the giveaway. They will also be offering $10.00 off any CritterZone purchase made by Zee and Zoey readers by using the discount code ZEEZOEY at checkout. Products include the Air Purifier in either a cord or wall style unit as well as the Air Naturalizer Travel Pack with Car Adapter.
Website: CritterZone   Retail Value:  $89.95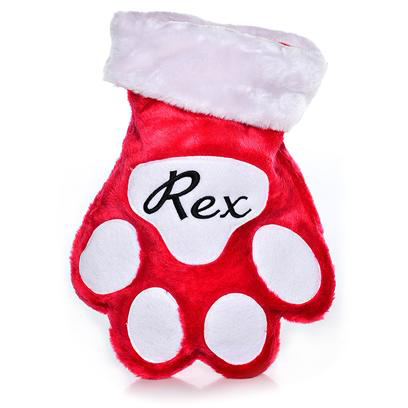 Now that we've offered you all those great gifts, just where are you going to put them? Well, we have another fun prize to add to the giveaway! We have always liked working with the great team at PetCareRx – they have a full line of grooming supplies, toys, food, flea and tick medication, pharmacy items, bedding, and so much more for animals big and small and always have great deals going on! They sponsored our "Giving Thanks Calendar Contest for a Cause" last year and now they have some really cute embroidered stockings available for us pets! One lucky reader will win up to three stockings embroidered stockings (we know that many of you have more than one pet in your home) and if you would like to order more outside of this contest they are only $14.99 each! Click here for ordering details. They also have a special promotion for 20% off flea,tick, heart worm meds, prescriptions and prescription food beginning Tuesday, December 3rd through January 1, 2014. Just use the code HOLIDAY20 at checkout.
Website: PetCareRx  Retail Value:  Up to $45.00
Last on our list – it's time to get serious and help out other animals in need this holiday season and on behalf of the non-profit our human chairs, Pawsitively Humane, we have a couple more recommendations. First off, human Mom and her partner, Christine Michaels of Riverfront Cats and Pawsitively Humane designed a beautiful calendar devoted to promoting black cats who, for whatever unfathomable reason, are often the last to be adopted and the first to be euthanized in shelters. The reasons vary, but the ill-conceived superstition that they bring bad luck is at the top of the list. We will be including one in the giveaway prize, but if you would like to order one for yourself or as a gift for others, all proceeds from sales will go to Pawsitively Humane/Riverfront Cats. Please click our link at Zazzle to order directly. We sure would appreciate your support and thank you in advance for helping us out. We also have a great Zee and Zoey page on Zazzle with all kinds of pawsome stuff featuring stunning images of us – now is the time to check Zazzle out – they are running special deals all weekend long and you can really save a lot of money by taking advantage now!
Zazzle:  Link to Zazzle for Black Cat Calendar Retail Value:  $24.00    
Zazzle:  Link to Zee and Zoey Boutique
The next thing, we hope you will shop based on some of our recommendations, but even if you don't, we know lots of you will be shopping on Amazon for all kinds of other things this holiday season. By using the special link we have from Amazon, a portion of the proceeds will go to Pawsitivley Humane and it's that simple! Wow… how cool is that! Helping out animals by shopping on a website that you were planning on shopping on anyhow!
Hope you enjoyed this extravaganza as much as we did putting it together for you. We wish you all the best of luck in the giveaway (red tape details to follow) and thank everyone who donated products and offers to make it so special. We have made the entry super easy with Rafflecopter so that you have lots of opportunities to increase your chances of winning. We hope you will take advantage of all the options and will also visit all the sponsors websites to show your appreciation for their generosity. It means a lot to them to have your support and it would mean the world to us as well so that we can continue to host these kinds of events to help promote the health and well-being of cats to a larger audience.
The Holiday Giveaway Gift Package is valid for anyone in the U.S.  and requires a comment on the blog post to be considered. The contest begins at 12:00 am on Friday, November 29th and ends at midnight, Monday, December 2nd, EST. The giveaway winner will be announced on Wednesday, December 4th. See the websites of individual manufacturers for further details on specific terms and conditions regarding special prices, discounts, and shipping information.