December 7, 2013
The Many Shades of a Crazy Cat Lady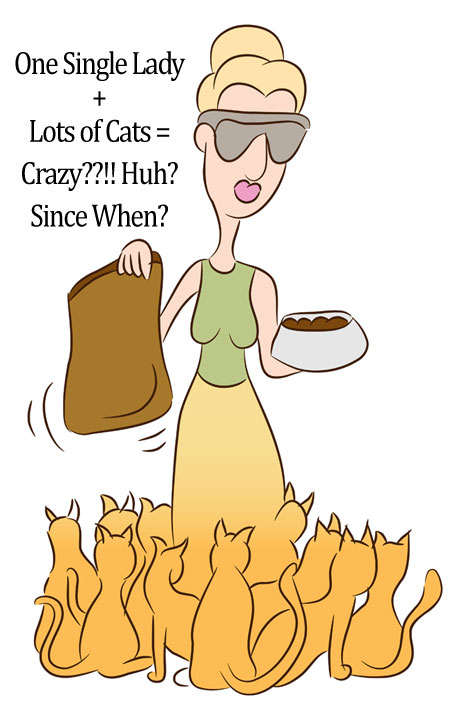 It is no secret in my cat-centric world that a lot of my friends and colleagues despise the term "crazy cat lady" and based on its loose definition, i.e., that a "crazy cat lady" is a woman, usually middle-aged or older, who lives alone with no husband or boyfriend and fills the empty, lonely void in her life with as many cats as she can, I can understand why. The definition has expanded into part of our mainstream language and has become a popular cliché to describe just about anyone who is a cat person in a derogatory manner.
I personally do not have a problem with the term if it is directly said about me because I know how ludicrous the premise is. I am lot of things, but crazy has never been one of them. I am a multi-dimensional person who happens to love cats, but they are not the only facet of who I am as an individual so it is hard for me to entertain the label in a serious fashion.
I do, however, understand the inherent danger in the term and why many would take offense. Throughout much of my grade and middle school years I was labeled as being "different" even though there was nothing wrong with me. I was bullied and called names for being shy, the shortest girl in class, wearing thick glasses, and not being pretty or good in sports – it was extremely hurtful and took me much of my adult life to get over it. Labels can cause serious emotional damage and perpetuating the crazy cat lady stereotype hurts not only devoted, caring, and compassionate cat loving people, but it hurts the feline species in general because it buys into the false stereotypes about cats in general – that they are not friendly and don't make good pets.
I have seen several sitcoms recently during prime-time that featured cats in a way that was meant to be humorous (according to the canned laughter response). The setup was identical – lonely person can't fit into "normal" society. Next scene, said apartment is overrun with cats to fill the void in that poor, hapless, and eccentric person's life. Not only is it not funny, it is lazy, tired, hackneyed, and poor writing. Why can't writers embrace reality and have cats seen in a positive light on these shows – studies clearly show that a cat can improve a person's health, happiness, and well-being, so why not share the news?
And the craziest thing about the crazy cat lady label is that in all my years of being around cat ladies, never once have I actually met one. All of my cat loving lady friends are strong, devoted, and intelligent people. I've never seen any of them with a cigarette hanging out of their mouth, wearing a bathrobe and curlers, with cats crawling up their legs. And the single women that I know who also happen to have cats are single by choice. They lead lives just like everyone else and while they might have crazy tendencies, it does not go hand in hand that it is related to the ratio of cats they have.
But is should be noted that not everyone is offended by the term. Some cat loving ladies (and men) wear the crazy label as a badge of honor. Kind of like, yeah, I take care of 30 outdoor cats and have 12 cats of my own – what of it? I'm proud of who I am and if that makes me crazy, then bring it on!
I just try my best to be respectful and fair. I don't use the term in my everyday language and I don't use it to describe myself or my cat loving peers. If someone were to call me crazy, I would just take the opportunity to politely extol the virtues of cats and let them know that they are confusing crazy with love, dedication, and devotion to the species. On more than one occasion with a naysayer, my rationale viewpoint has resulted in a cat adoption with them, so I consider that a victory. I just don't ever want people to feel that they have to apologize for loving their cat(s) or to feel ashamed to tell someone how many cats they have for fear of being labeled crazy. That just needs to stop regardless of whether you call yourself a crazy cat person or not. I have 7 cats and I would never feel embarrassed to tell anyone that.
And let's face it – as a nation we can be a zealous bunch and the shades of our crazy are not just limited to cat ladies. From mild behavior to extreme fanaticism, we honor, celebrate, and worship such things as sports, shoes, decorating for the holidays and celebrating Halloween to name just a few. I consider my blatant affection for wearing cat ears a mild form of expressing my celebration and love of the feline species, although some may disagree and deem it crazy, unprofessional, or immature for my age. I say that it is my best conversational tool to opening the door to positive cat communication. Clearly I know I can't wear my cat ears to my day job, but when I go to book signings and adoption events, I always wear my cat ears because it breaks the ice – people feel I am approachable and then I can share important information on such subjects as spay/neuter that I would not otherwise be able to do if people just walked past me.
And what a shame if we judged people solely based on appearance, because behind those cat ears is a warm, loving, kind, caring, and intelligent person who has done considerable advocacy work for cats. Or what about Jackson Galaxy? Clearly on the surface he looks like all shades of crazy. Yet there he is, tattoos and all, breaking all kinds of stereotypes and doing an incredible job teaching the world to love and accept cats.
I worry more about the anthropomorphism of cats – in other words, giving cats human characteristics. Talk about crazy – cats have been elevated to such status on the Internet by the mainstream that the species has become detached from reality. Cats playing the piano, Grumpy cat, cats who blog as cats in a special cat language, cats wearing clothes, and so on. I'm not saying it's bad per se, I'm guilty of anthropomorphizing my cats on more than one occasion and I've even seen the most serious of cat bloggers engage in the practice themselves to one extent or another. I worry more about cats getting hurt in the process as people try to "one-up" each other in search of fame and glory. For example, I for one found very little humor in the owner who turned his dead cat into a helicopter for YouTube.
Cats are not people, nor are they disposable, nor should they be exploited in any way that could harm them. It is up to us to make the world a better place for them. So, for me, I find the best label for me is to be myself, Deb Barnes, someone who just happens to love cats and does the best she can on a daily basis to help inform, educate, and entertain people on the species. Perhaps a few letters are in order to some of the big wigs at the networks to hire new writers…
Anyhow, what about you? How do you feel about the crazy cat lady label?