August 1, 2012
The Purr-fect Litter Box for Your Cat – Review of the NVR Miss Litterbox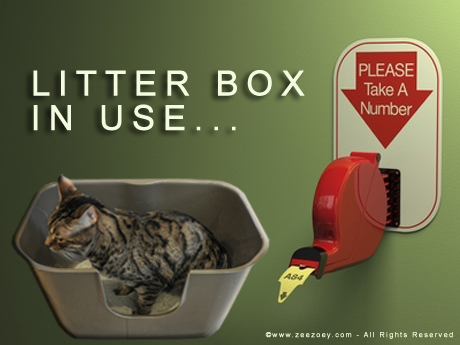 When I first started blogging in 2010, it was all about telling the story of my life with my cats. I had not remotely entertained the thought I would be discussing a subject so unseemly as litter boxes, but it turns out when you have cats, they go paw in paw and the topic is unavoidable.
No one knows this more than the folks at NVR Miss Litterbox  so when they reached out and asked if I wouldn't mind testing out the NVR Miss Litterbox for review, how could I possibly turn the opportunity down with my feline focus group of seven extremely adept litter users? I don't know about your house, but in mine, using the litter box is something akin to an Olympic event and all my cats strive to win a gold medal each time they go. Could NVR Miss stand up to the challenge of my active and enthusiastic multi-cat gang?
Thankfully, for the most part, my cats have good litter habits. The only exception is my male, Rolz. Rolz is an "elevator peeing" champion. Elevator peeing is that balancing act your cat performs by trying to get as high up as possible near the rim of a litter box to lift his/her tail to spray urine all over the walls and floors. Granted, Rolz didn't "elevator pee" every day, but he did it enough to be a pain – especially when I would be walking out the door for work and would catch him in the act and have to call in late to clean up the unpleasant mess.
The initial problem was because I was using a regular litter box that you would find at any discount store – low sides of equal height all around which made it far too easy for him to lift his tail and spray with wild abandon.
Eventually I managed to find a litter box that looked like Santa's sleigh – very high walls at the back (typically where he stood to do his high peeing), that graduated lower in front for him to get in and out of. I wish I could say it solved his problem, but since I was relegated to taping puppy pee pads to the wall to absorb any spraying incidents that might (and did) occur while I was not at home to clean them up, I think that qualifies as a resounding, "NO."
Right off the bat, the NVR Miss Litterbox was different. It had high walls of equal height around it, with the exception of the entry that was lower and centered HORIZONTIALLY! Hmmm… the design had potential. To use the litter box, Rolz had to enter the box vertically, and once inside, he had to turn his body horizontally to do his business. He seemed to have plenty of room to feel comfortable without being able to find an easy to use spraying spot.
Was it really as simple as that? Well, in a nutshell, honestly it was. Rolz is no longer autographing the walls and floors with his urine and the NVR Miss folks score a major gold medal in my mind for striping that title from him!! The next big issue I needed NVR Miss to tackle is what I call the "litter-flinging" event. Again, anyone that has a cat can relate to the determination and gusto they have when it comes to flinging litter across the floor to bury their mess. Sigh… it's a never ending battle in our house keeping the floors litter free. Scoop, sweep, repeat. Scoop, sweep, repeat. Scoop, sweep, repeat….
Thanks again to the ingeniously simple design of the NVR Miss Litterbox, the litter flung on the floor and tracked around the house has been significantly reduced. Another gold medal for Team NVR Miss!! The only issue I had is one that happens with most anything that is new – because the walls are so high, I had to readjust my scooping habits to accommodate for the height. The first few days were awkward for me, but now I'm a pro – I find if I angle the scoop at the opening of the litter box, then it's quite easy for me.
The box comes in a neutral white color (brown as seen in photos is no longer available) and is 22" long x 15" wide x 11.25" high. It is made of a durable plastic with widely curved corners that make it easy to scoop litter without it getting stuck to the sides. NVR Miss is a Canadian company but you can easily order the NVR Miss to ship in the U.S. It retails for $20.95 plus shipping and while the box might seem costly, in the long run it is well worth the investment and you will not be disappointed. The only thing this litter box doesn't do, is stop my cats from using the box again and again, instantly after I scoop it, or uncannily, right before company comes to the house…
We highly recommend this product in our high-litter volume household of seven cats and thank NVR Miss for the opportunity to test this product. We were not compensated in any way other than the sample NVR Miss litter boxes sent to us. For details on this pawsome product, please click here.
Most cats instinctively know to use a litter box, but when they don't, it can cause extreme frustration for pet parents and is one of the most common reasons why cats are brought to shelters. Nobody wants that to happen – one way to keep your cat happy and healthy is with the proper litter box like the NVR Miss. But if  your cat is exhibiting ANY unusual litter box habits (both inside and outside of the litter box), please consult your trusted veterinarian to find out if your cat has any medical issues that need immediate attention. 
For additional information on why your cat might be exhibiting poor litter habits and what you can do to help prevent them, please read this article on litter etiquette 101 for details. And if you like posts like this, please be sure to subscribe to our email updates so that you don't miss out!